1.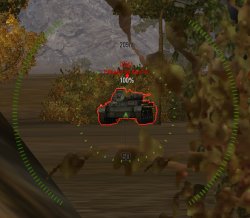 Press F1 during ingame to show detailed help on the HUD screen.

The Gun Sight
The gun sight is the small circle that follows your cursor (reticle). It automatically closes in to the target and gets smaller when you don't move your gun.
The speed your gun sight closes in to the target depends on your gun characteristics (aiming speed) and gunner's skill.
When you press the fire button, your shell will land anywhere in the circle. This is basically your gun's accuracy. The smaller the circle, the more accurate your shot.
Enemy Vehicle Outline
The vehicle outline will be highligted only if you have a line of fire. If the vehicle is blocked by an obstacle, the outline will not appear. It simply means, when you see an outline, you have a chance of hitting it.
To enable Auto Targeting
Right click with the reticle (cursor) pointed on an enemy vehicle.
Your gunner will automatically point your gun (follow) at the target.
Some points about Auto Targeting.
Auto targeting will aim directly at the middle of the target, which is usually the hull (not necessarily the best part to hit). Sometimes the hull is blocked, but the turret is exposed, or sometimes you want to aim at the tracks or thinner turret armor, etc.
Your gunner usually misses when aiming at fast moving targets that are directly passing you by.

To disable Auto Targeting
Right click with the reticle (cursor) pointed on an empty space.
Auto targeting will also be disabled if the vehicle is destroyed, or its position is unknown.
Others
You can also see your gun's loading progress, distance to target, target's health, etc.
When you score a critical hit, it means that the crew is injured or component is damaged. As of writing this, it does not necessarily reduce the hit points.