The Tech Tree Screen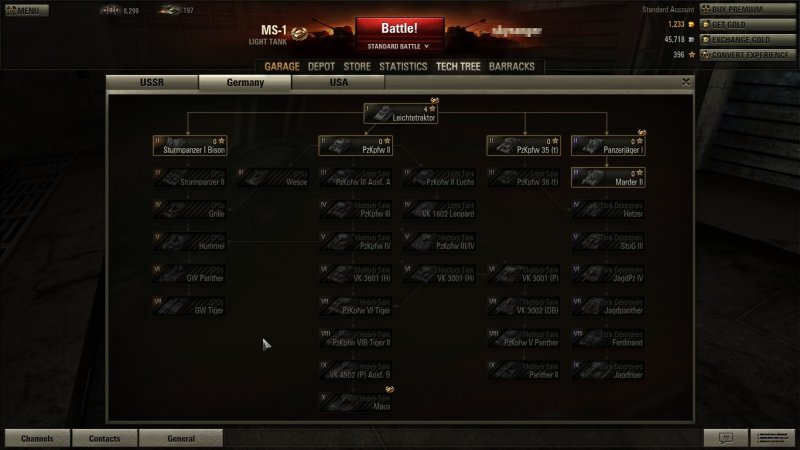 The Tech Tree Screen
The Tech Tree shows you the branches of your vehicles. As each vehicle is researched, it unlocks additional vehicles according to the tech tree.
Very important to note are the tank tiers - represented by the Roman numerals, tank tiers run from 1 to 10. Premium tanks are NOT shown on the tech tree. Premium tanks do not need to be researched. You simply buy them with gold and premium tanks are stock tanks (ie, cannot be upgraded).
There are three main branches of the tech tree :-
Artillery (SPG) - Artillery or SPG. Excels at long range combat, clumsy at close range. Functions as a force multiplier for your team when supporting friendly tanks with indirect fire.
Tank Destroyers - Have a big gun advantage, and difficult to detect, but at a cost of lower hit points, weak side armor and low manueverability due to its turretless design. Tank destroyers excel at ambush and base defense.
Combat Tanks - Further broken into Light, Medium and Heavy tanks. In a combined force, Light tanks are best suited as scouts. Medium tanks for attacking enemy flanks and then withdrawing. Heavy tanks for spearheading the assault.