TeamSpeak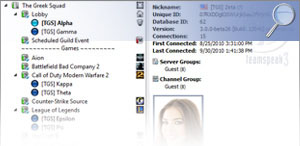 What is TeamSpeak. And do you need it?
TeamSpeak allows voice communication over the internet. Its free for non-commercial use, and is a popular choice for gamers.
In World of Tanks, communication with your teammates during a battle is of vital importance. And TeamSpeak fills this gap by allowing you to speak in real time with your entire team. Its very widely used by WoT Clans and also platoon players.
To use TeamSpeak, you need to first download and install the client software. You can download TeamSpeak from here. Then you will need the ip address of your clan's TeamSpeak server. Every clan will have their own unique ip address, so you will need to get the ip address from your clan leader.
Once connected, you will see a list of channels. Once you join a channel, the list of participants in the channel will be listed in a small window. Note that you will need authority to join a channel - again, your clan leader will be able to authorize you to join the channel.
There are many ways you can communicate with players in the same channel. You can press a designated hotkey, and then speak into a microphone. Or you can have your microphone constantly activated, and just speak directly without pressing any key.
Of course you can hear others too. And when they speak, you can see who is speaking because their nickname will be highlighted. All these is shown in a small little window, and you can hear, talk and see other players speaking all at once, even during a battle in World of Tanks.
TeamSpeak is very popular in World of Tanks clans and especially useful during clan battles. If your clan doesn't use it during clan battles, then your team is really missing out on a strategic advantage.
TeamSpeak is very often abbreviated to "TS".